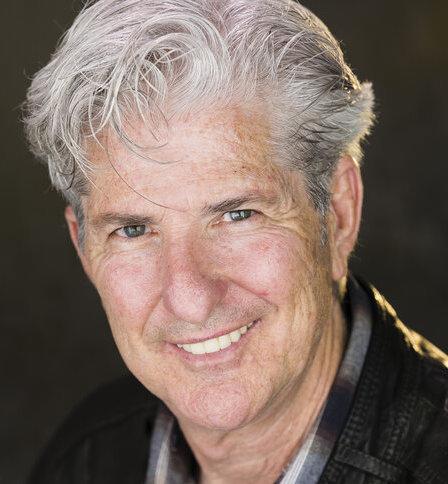 Kevin Michael Moran
Kevin Michael Moran is a recent member of the Group Rep having just appeared as J.D. Sheldrake in Promises Promises. He has been an actor for several decades both in New York City, his hometown, as well as Los Angeles. He is a graduate of Queens College where he studied English Literature, Drama and attained a high school teaching credential which he would use later in life in the Los Angeles Unified School District.
After college Kevin performed in summer stock and national tours.  He studied at the Herbert Berghof Acting Studio with Sandy Dennis and observed Uta Hagen's mastery.  He performed at Joe Pap's Public Theatre, and several other off-broadway houses.  In Los Angeles Kevin has worked at the Westchester Playhouse, Theatre 40, the Actors' Co-op, the Met theatre, the Mc Cadden and the Sierra Madre Playhouse. His most cherished role is that of George in Who's Afraid of Virginia Woolf performed at the Ophelia Jump theatre in Upland. Among the many plays and musicals Kevin has done, several stand out: A Little Night Music, The Language Archive, Truman Capotes' A Christmas Memory, Spinning into Butter, Carnival, Biloxi Blues, Jesus Christ Superstar, Pippin, and The Man who Came to Dinner. He is currently involved in a workshop of an original musical entitled The Lincolns of Springfield which premiered in Santa Barbara and will hopefully tour sometime in the near future
His TV, web series and film credits include: "Being the Ricardos," "Babylon," "Wall Street," "Hello Again," "In the Shadows," "Chasing Phantoms," "Have a Little Faith," "The First Gentleman," and "All My Children." His first leading role in the feature "Tiny Cinema" can be now seen on Amazon Prime.
As previously mentioned, Kevin taught English and Drama for twenty years in Los Angeles simultaneously while performing.  He also produced and directed original musicals at John Marshall High School for 10 of those years. Now retired from education, Kevin devotes most of his time to acting, spending time with his spouse and friends, and his dogs who keep him laughing and young at heart. He is also working on a book about a very unique "survival" job he had during his earlier days of acting. He hopes to see it on everyone's coffee table by the end of 2023.
Kevin has been a member of Actors' Equity and SAG-AFTRA for 41 years.