Opens June 15

---
Rumors
By Neil Simon

June 15 to July 29

Friday/Saturday at 8pm
Sundays at 2pm
Five neurotic couples gather for a dinner party celebrating one couple's tenth anniversary.  The best laid plans go wildly awry when guests start arriving to discover their host has shot himself in the earlobe, the hostess is missing, dinner hasn't been started and scandal looms for everyone who dares to enter the house. As the confusions and mis-communications mount, the evening spins off into classic farcical hilarity. If laughter, indeed, heals, then this madcap series of misadventures will prove to be the perfect prescription for whatever ails you.
Directed by Doug Engalla

General Admission $25
Students/Seniors $20

Opens June 30

---
June 30 to August 5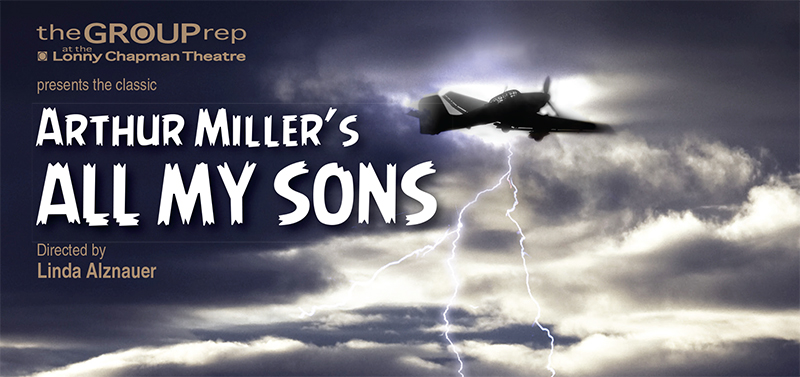 Saturdays 2pm; Sundays 7pm
$20 General Admission; $17 Students/Seniors
Directed by
Linda Alznauer
How far would a man go to protect his family, his interests, and his legacy? Joe Keller, the patriarch in this classic American drama, desperately wants to secure and maintain the financial security and legacy he spent so many years building, ready to hand it down to his surviving son Chris. At the same time, Joe's wife Kate is still waiting for their eldest son Larry to return from war, determined that he is alive and will marry the former girl-next-door, Ann — the daughter of Joe's former business partner who is sitting in prison. To complicate matters, Chris and Ann are in love and want to get married. Re-visit this exquisitely written, post-war play depicting an American family in a tragic downfall of lies, greed, love, and loss, as it gently asks its audience examine their own social responsibilities to all the sons of American wars.
StoryTime – June 24th
Produced by Pat Willson
A salon featuring live personal stories of triumph, tragedy and just crazy shit, by wonderful storytellers.
Katsy Chappell — "My Story"
Ruby Cooper — "Mom's Well-Kept Secret"
Ty Fance — "Black Belt Crisis"
Doug Haverty — "Sting Surfing"
Mike Lambert — "Stranded"
Melissa Lee — "Prison Tales"
Susan Edwards Martin — "Born in My Heart"
Robyn Samuels — "Who Knew"
Stan Sellers — "Big Shoulders, Long Stride"
Shirlee Smith — "Kool-Aid"
Pat Willson — "Upset is Costly."
ONE-NIGHT-ONLY
June 24, 2018
7:00PM