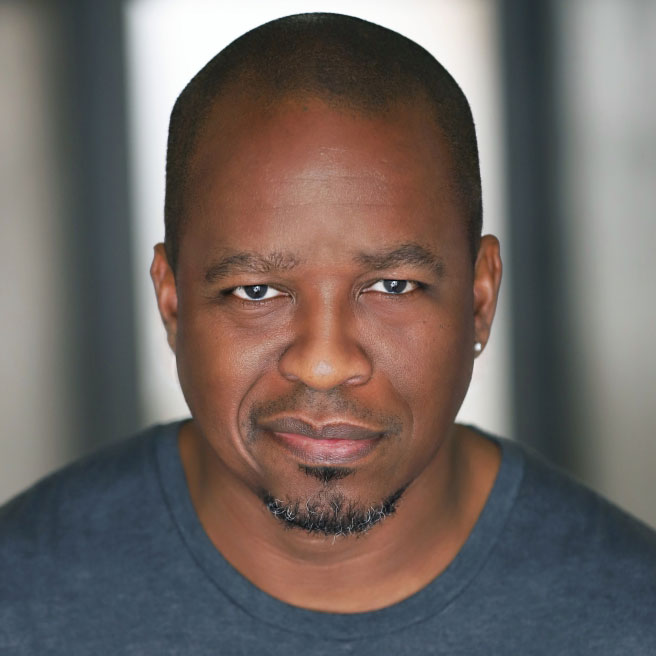 Marc Antonio Pritchett
Marc Antonio Pritchett is a classically trained actor, singer and stunt combatant with over 20 years of professional experience.
He was most recently seen on stage at GRT in The Laramie Project. Prior to that Marc was seen in the role of Dave in Love… Or Best Offer, You Only Live Once for GRT's outdoor production of Motel 66 as well as the Group Rep production of Night of the Living Dead.
Other previous stage credits include Guess Who's Coming to Dinner at Theatre 40, Twelfth Night at Ophelia's Jump, Othello at the Sacramento Theatre Company; Marat Sade, Richard III and The Towering Inferno: The Musical at Theatre of NOTE.
On the small screen his credits include such shows as "The Privateers," "JAG," "Arrested Development" with Jason Bateman, and "The West Wing" with Martin Sheen.
Some of his appearances on the big screen include "The Onion Movie," "The Bacchae," "Soldier of God" and "Frost Portrait of a Vampire" with Gary Busey.
Marc has also worked with award-winning recording artists such as Justin Timberlake, 30 Seconds to Mars and Josh Groban and performed live with Jordan Smith on NBC's "The Voice." Most recently he sang on the "Lion King" (2019) soundtrack. As keyboardist of the indie band Velvet Chain, his talents were featured in "Buffy the Vampire Slayer" and "Sex and the City."
In addition to actively pursuing his acting and singing careers, Marc is quite active in the stunt fighting world as well. With over 20 years of theatrical combat experience and over 30 years of martial arts experience, he has worked in live events, theatre, opera, TV, film, and has just begun a foray into the world of motion capture. He works professionally through his company Artistry In Action and teaches theatrical combat through his combat school, The Art of The Swashbuckler. For additional info visit: www.marcantoniopritchett.com