Michael Gabiano plays plays Banjo weeks 2 and 5 of our run, a famous Hollywood comedian, a grown-up adolescent. He is as loony offscreen as on-the Marx brothers all wrapped into one-but he good-heartedly allows himself to be the means by which Maggie can retrieve her happiness. Need to be comfortable with physical comedy.
MICHAEL GABIANO (Banjo) NYC Theatre: World premieres of Awaken the Wolves (Spotlight On/New Village Productions), The Amaziiing Colossal Thing (Vital Theatre Co.) LA Theatre: Premieres of Hillary and Monica (Argus Productions); Joel Zwick, Director, Reunion (Blackhart Productions); Kay Cole, director, Saturday Night at Grossinger's (TheatreWest) Susan Morgenstern, Director, Naked Christmas (P6/Celebration Theatre). Regional: Raft of the Medusa, Immortal Interlude (NJ Repertory Co.), ART and The SantaLand Diaries (Tri-State Actors Theatre). Film: "Sam Hu's Last Day," "A 2nd Opinion," "Never Say Macbeth." Television:
"Crazy Ex-Girlfriend," "General Hospital" "Days of our Lives," "Sean Saves the World." Michael is
represented by MINC Talent.
Over 30 people were cast in The Group Rep's production of The Man Who Came to Dinner. As part of our backstage coverage of this show in development, we will introduce you to each cast member.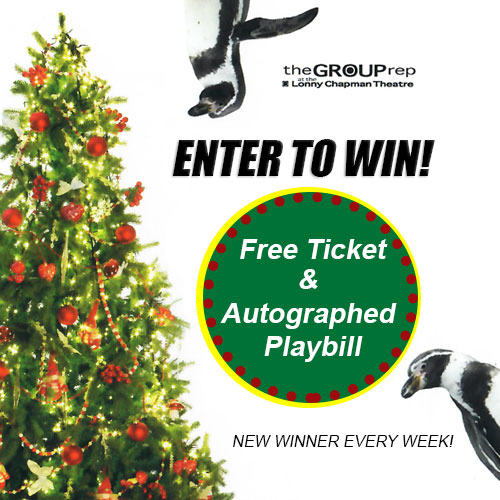 The Man Who Came to Dinner
By Moss Hart and George S. Kaufman
Directed by Bruce Kimmel
December 6, 2019 – January 12, 2020
Fri/Sat at 8pm, Sun at 2pm