This crisis is hitting everyone differently and everyone is coping in their own unique way. We recognize that many people in our wide-reaching circle are facing life-changing struggles with both health and finances. For all our sakes, we hope things get back to "normal" … and safely soon.
As far as coping goes, we are pleased to be able to offer a video of our latest production, my play, IN MY MIND'S EYE, which just closed on March 15th. This memory play was inspired by true events and paints portraits of some very admirable women who had a profound effect on me. The production, written by Doug Haverty and directed by Bruce Kimmel, features: Kait Haire (Trish), Peyton Kirkner (Patty), Maria Kress (Lola), Lloyd Pedersen (Calhoon), Clara Rodriguez (Jean Hester) and Bobby Slaski (Hugo). The gorgeous designs are by: Pawena Sriha (set), Douglas Gabrielle (lights), Michael Mullen (costumes), Steve Shaw (sound), Leslie Young (props) and incidental music by Kimmel. This video was shot by Doug Engalla. Produced by Bita Arefnia. Audiences and critics responded extremely well to this production. Hopefully, you will too.
For those of you who can, you might want to consider helping Group Rep get through this uncertain time. "Social distancing" while absolutely necessary, has been devastating for theaters. Closing our doors and cancelling performances when we still have ongoing bills and rent to pay is not an easy thing for an all volunteer, Non-Profit organization. And it's especially hard for small organizations, like ours, without an endowment or grants to fall back on in an emergency. We are a 501 (c) (3) Non-Profit.
So, please enjoy this video. And if you can, make a gift to help ensure we're ready to open our doors again when this storm has finally passed.
We're all in this together. Stay safe; stay healthy! We'll see you soon. And please share the video. Thank you!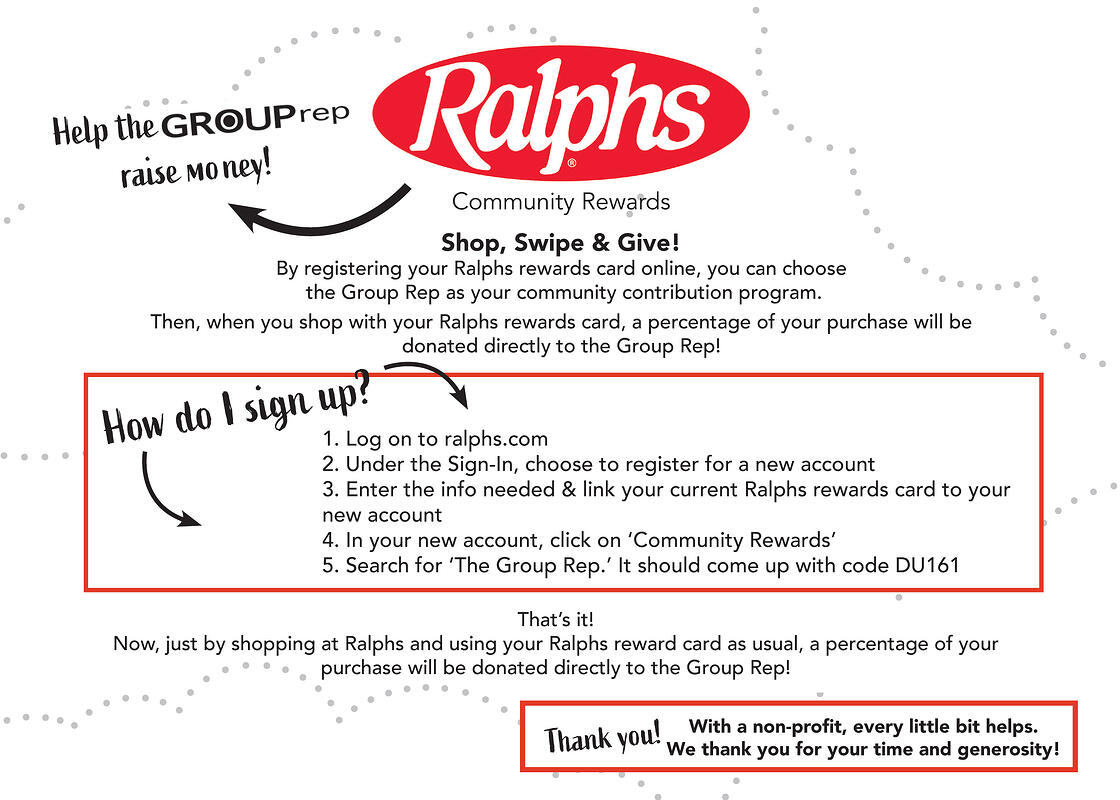 Ralphs Community Contributions
When you register your Rewards Card account at www.ralphs.com (and renew yearly after Sept. 1), RALPH'S WILL DONATE $$$ if you designate "The Group Rep" as your "Community Contributions" choice. They will automatically give us a percentage of what you spend and it won't cost you anything! We get a little money. You feel good. And Ralph's is happy because they're helping the community. Everybody wins!