Are you a behind-the-scenes junkie? If yes, you can get incredible insight into Director Bruce Kimmel's process for building The Man Who Came to Dinner. Below we are highlighting his director's notes from various rehearsals. Enjoy!
SUNDAY FUN-THROUGH
Last night, we had us a few people in to see our show, and boy was it illuminating for everyone.  The opening ten minutes played like gangbusters, every single laugh landed.  And then, after that, much of the show worked well, but when it wasn't working as it should it was all due to pace and energy, especially vocal energy.  Any time that would drop we lost them and it would take a few minutes to get them back.  I think everyone felt it, too.  But what's working is working splendidly and now we have to simply fine tune it and keep the energy constant from start to finish.  Plays like this demand constant energy and pace – it can never ever flag.  Technically there were a few things to tinker with, but most of that was fine.  But we're still long and I will spend every second I can on making this move along faster – at the minimum, three minutes off each act, and more if possible.  But it was absolutely wonderful to hear twelve people all laughing as one and we just want that all the time.  After, I gave notes, and that was that.
SUNDAY FUN-THROUGH
We had a fun-through yesterday and thankfully we were back onstage with our set.  We simply can't run the show in any other space at this point.  It was pretty smooth going. Lots of fun stuff and the cream puff bit from Barry Pearl went on for a good two minutes and had people howling – my kind of bit – it was one of the first things I thought of when planning things and when you have a comic actor like Barry, who knows how to milk a visual gag as well as anyone, well, it's just gold.  I'm not sure we took anything off the run time, but the more we run, the more I see exactly where we need to speed up, so I'm able to be specific about those places.  The set is working very well for us and the more we run the more everyone gets used to the mechanics, and make no mistake, brilliantly crafted comedies like this are machines and must function as well-oiled machines.  But once you get the rhythm of it, both the overall rhythm and then the internal rhythm of each sequence, then it's really easy for the actors to feel when it's not there.
RUN-THROUGH WITH NOTES
We finally had another run-through last night and it was really fascinating to watch.  Just prior to starting, I cleaned up a couple of blocking things at the top of act one and then we began.  Scene one moved like a house afire – not too many lines called for and no stopping, and you could finally see how wonderfully it plays when the energy is right.  It flew by and I was totally taken by surprise by how fast we got to scene two.  But scene two was way too slow – lots of line calls, and things just not snappy enough.  I took copious notes.  Even so, act one ran about fifty-two minutes – so we still have to shave about seven minutes off the run-time and all of that has to come from scene two.
Act 3 ran smoothly and had some great stuff in it.  I have a bit where Banjo gets a bowl of walnuts and cracks them after key lines and it was the first time we had them and dear Lord, Barry Pearl had a field day with it and it got howls of laughter.
ON OUR STAGE
We finally had our first rehearsal on our stage with the bones of the set.  So, there was no way we were going to be able to do what I hoped – run the entirety of act one twice.  The reason for that was and is simple: Everyone had to get used to entrances and exits, how much time it took to travel, and I had to continually adjust blocking for our new larger, wider, and deeper stage.  I did this on the fly the first time through, and of course I ran the opening several times to get that timing right.  But, not so many calls for lines, which was great, and everyone is adapting quickly and realizing that the energy used in the upstairs space is different than it needs to be in this larger space.  I can see the glimmer of what this act will play like, but it's going to take a lot of effort in terms of pace to get there.  That's the way comedies like this work – no pauses, no fumfering, no adding ums and ohs and ahs – just cranking out the brilliant dialogue and holding for laughs, should they occur. So, we ran act one once, and then ran act one scene one in its entirety.  We won't be back to it until Friday.
BIG LAUGHS
We managed another run-through yesterday – smoother than the night before, but we're still in the getting the lines solidified.  The set was being built whilst we were rehearsing upstairs.  I'm sure that will take some getting used to, as well.  I gave a few notes from the night before, and then after we finished the run-through, I let the cast do a line-through of act one, and I think that was helpful.  Biggest laugh of the day belonged to Kay Cole in her final scene as Miss Preen, where she quits – she has a line about Florence Nightingale – and out came Florence Henderson – the room erupted in laughter, Jim Beaver and Kay did as well.
OFF BOOK
We had a run-through last night. We managed to get through all three acts by running past our three hours by twenty minutes, but there were also two ten-minute breaks and we didn't really start until 7:20.  But most importantly, it was the first time everyone was without their scripts.  So, obviously it was a lot of calling for lines, which is normal for this point in our rehearsals and simply something that has to occur.  I've been doing theater since I was fourteen and the rehearsals that were first time off book have always been like this.  Fortunately, we have two actors playing the role of the daughter, June, and so one did the run-through (they take turns and are splitting the run) and one sat with me, took notes, and called out the lines in a calm, clear voice, which was so helpful.  And starting this morning, I begin tightening everything from blocking to performances and line readings.  I went through exactly this same thing doing Dial "M" for Murder at the Group Rep – because that show was also dialogue heavy and I had a lot of blocking-ography in it.  It really takes time and patience to get all that right.  I, of course, have no patience, but that's another story.  And we finally have the wheelchair for Whiteside that he'll use during the run, and it's much easier for our actor.
BANJO BITS
We vacuumed act three last night and whilst doing so came up with some pretty funny sight gags, which is what I love doing. And having Barry Pearl is such a treat because we are so on the same wavelength and I can throw anything at him, and he'll do it up right. Then he'll have ideas and we'll build on them and we get funny stuff from all that. Of course, we do that, run it several times, take a break, then run it again and of course everyone has forgotten what they did, so now they have to, on their own, lock all these things into place so that they're second nature. But the evening went well and as soon as everyone finds the pace things will begin to cook. Also, when I walked into the theater I was happy to see they've begun getting our set in – the stairs are there now and we could conceivably work on the stage tonight, although I'm not sure I want to throw that at everyone for our first run-through since Tuesday. We shall see. If not, then we'll be on the stage on Tuesday and I'm thinking that at least the bones of the entire set will be there.
PUZZLE PIECES
Last night rather than doing a run-through, I instead ran only act two, which has to run twenty minutes shorter than it did at the run-through the night before.  Now, a lot of that length was stopping and going back and not knowing lines.  But as I watched it I realized that the shape of act two is very tricky and that a lot of dots have to connect to make it work.  It all has to do with a steady build to the end of the act and finding the rhythm within each of the long sequences that get us there.  What I was really doing was what I do a little later in the process, what I call vacuuming the play – cleaning up the staging and adding and subtracting stuff.
AT LONG LAST A RUN-THROUGH
We actually managed to run the show last night. And it was, as these things always are, fascinating. There were moments where everything kind of clicked and played well, and there were moments when things didn't. But the fascinating thing was the run times of each act. Act one ran fifty-two minutes. I have always known what I want each act to run and act one should run forty-five minutes. So, that one's in the ballpark. Act two I would like to run forty minutes – it ran an hour and was the roughest of the three – it has no shape at the moment. I made a lot of tiny blocking notes that will help the pace but people are really struggling with lines so that slows up everything. But twenty minutes is a lot to lose.
ACT THREE – BLOCKED
I decided to finish blocking the three pages left of act two (act two has one of the great funny curtain lines ever written – Miss Preen says it), and then move directly into act three. And I did all of act three save for two pages, so that was a good night's work. Barry Pearl joined us as Banjo, and I knew we'd have fun figuring out his stuff, and boy did we.
ACT TWO – BLOCKED
Our leading man joined us for rehearsal, and it was ever so much fun to have him there and get him up to speed. We began right at ten – my assistant director gave him his blocking, which he wrote down, and then we began at the top of act one and ran that entire act. He got all the blocking right and, of course, seeing him do it I added a few things.
THE FUN AND PRODUCTIVE FIRST REHEARSAL
I began the evening with my usual speech – no negativity allowed in the rehearsal room, that I don't like the words "no" and "can't" and "won't", that I love actors and that I don't plan too much because I base a lot of what I do on when I see each actor's physicality and hear them do their lines. Then we began with scene one – the first five pages of that scene are insane, really – one entrance on top of another with absolute clarity needed, with sharp timing needed, and an insanely fast pace. So, I barreled through it – I blocked a bit, ran it several times, then went on, and that's how I work. It seems laborious at times, but by the end of our three hours I'd not only blocked all that, I did twenty-one pages total, ending just before the end of scene one. As with my writing, I don't like to finish a scene at the end of a rehearsal – I like to stop just before so that when I resume the next evening, I do a review and pick right up where I left off, which gets everyone back in the mode, and then we move on.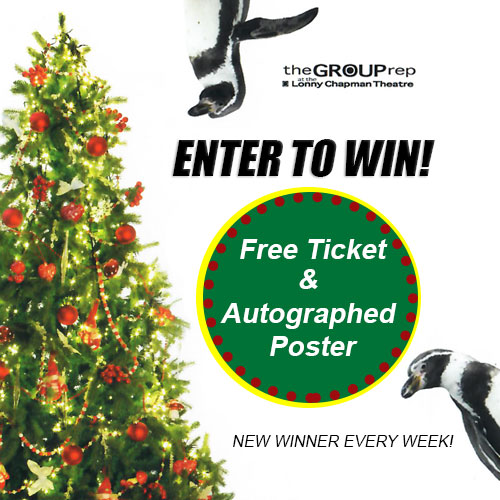 The Man Who Came to Dinner
By Moss Hart and George S. Kaufman
Directed by Bruce Kimmel
December 6, 2019 – January 12, 2020
Fri/Sat at 8pm, Sun at 2pm