Over 30 people were cast in The Group Rep's production of The Man Who Came to Dinner. As part of our backstage coverage of this show in development, we will introduce you to each cast member.
The Cast
(In order of appearance)
Mrs. Daisy Stanley | Laura Wolfe*
Miss Preen | Kay Cole*
Richard Stanley | Neil Angevine
June Stanley | Anastasia Burnett (Wks 2, 3, 6)
June Stanley | Marina Shtelen (Wks 1, 4, 5)
John | Sal Valletta
Sarah | Lareen Faye
Mrs. Dexter | Leslie Young
Mrs. McCutcheon | Cheryl Crosland
Mrs. McCutcheon | Sherry Michaels* (12/21, 12/22, Week 4, 12/8 and 12/15)
Mr. Ernest Stanley | Doug Haverty
Maggie Cutler | Hartley Powers
Dr. Bradley | Fox Carney
Sheridan Whiteside | Jim Beaver*
Harriet Stanley | Michele Bernath*
Bert Jefferson | Mark Stancato
Prof. Adolph Metz | Steve Shaw
Luncheon Guests (Crockfield Convicts):
Mr. Michaelson "Butcher Shop Murders" | John Ledley
Jefferson a.k.a. Henderson, "The Hatchet Fiend" | Christian Land
Friendly Convict | Bita Arefnia
Baker (Guard) | Leslie Young
Expressman | John Ledley
Lorraine Sheldon | Susan Priver
Sandy | Nick Asaro
Beverly Carlton | Chris Winfield
Westcott | Christian Land
Radio Technicians:
Radio Man | Steve Shaw
2nd Radio Person | Bita Arefnia
Technician | Leslie Young
Banjo | Barry Pearl* (Wks 1, 3, 4)
Banjo | Michael Gabiano* (Wks 2, 5)
Deputies: John Ledley & Bita Arefnia
A Plainclothesman — Christian Land
Children's Choir — Chihoro & Momoka Kato
Alternates:
Miss Preen | Kathleen Delaney* (Week 6)
Prof. Adolph Metz | Steven Stanley (Week 4)
*Member of Actors' Equity Association (AEA), the Union of Professional Actors and Stage Managers in the United States of America.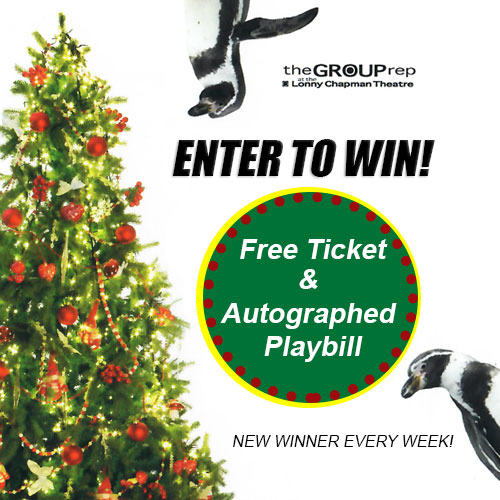 The Man Who Came to Dinner
By Moss Hart and George S. Kaufman
Directed by Bruce Kimmel
December 6, 2019 – January 12, 2020
Fri/Sat at 8pm, Sun at 2pm